Marine WiFi router consists 220V Power Plug and Play
NO DRILIING
NO MESSY CABLES
Dual Sim card slots for redundency
Wireless N or AC Technology
It is a complete network solution as it can replace complex network cables from multiple routers. It will save massive installation and maintenance man-hours. A system with industry level of reliability, performance and unprecedented level of security. Not just a simple Internet gateway.
When setting out to sail for a long period of time, communication becomes a necessity. Conventionally, the most common forms of navigation for maritime activities has been through maritime communication and navigation systems; VHF, MHF, HF radio systems.
These systems have been solely used for navigation and maritime safety. With the advent and current developments in communications technology, marine communication has its share of technological upgrades as well.
These upgrades come in the form of marine WiFi systems or commonly referred by the general public as boat WiFi.
RevLight Solutions offers Marine Wi-Fi unlike any other. Its device on offer has many features including portability.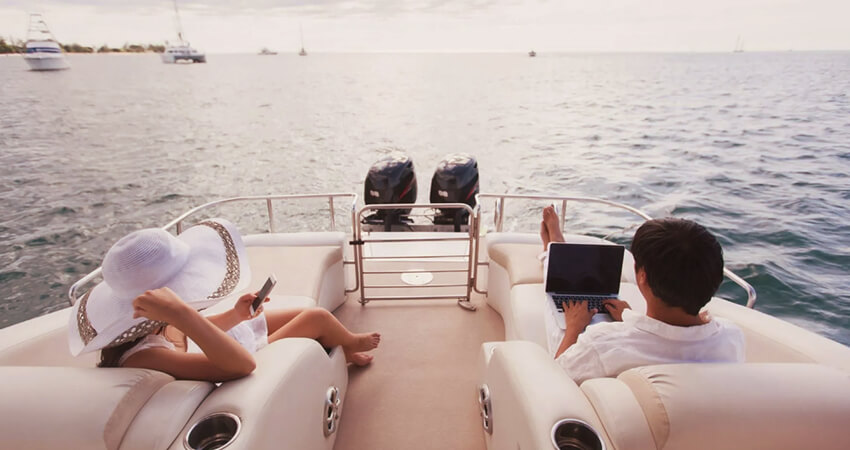 The 4G SimCard Marine Wireless Router does not need to be drilled into the vessel's walls and does not require any loops of messy cables. The portability of RevLight Solution's Marine WiFi is fit for any marine vessel; may it be for personal, commercial or industrial marine vessels. The device not only saves space through its portability but also reduces the hazard of having wires running around the marine vessel. Also, it's portability is perfect as a yacht WiFi device since it won't ruin any design layout of the yacht.
This design has complete network compatibility which replaces multiple loops of Ethernet cables seen in most routers, switches and access points. Physically, the device of industry grade and will require less physical maintenance. This combination of ease of installation, less maintenance, reliability and performance will result to enormous savings.
In technicality, the device comes with two sim card slots, allowing flexibility to use two different network providers. It also comes with two standard Ethernet cable slots at 10 to 100 megabytes per second. The device also comes with two SMA Cellular Antenna Connectors in where when a high gain antenna is attached there will be an evident reception boost.
Marine Wifi Booster Antenna
This marine wifi booster antenna enables the device to get better reception of the network in areas where reception is weak or is a must. The booster antenna ensures that the service reception is strong all throughout the marine vessel, may it be from small to big marine vessels. This plug-and-play device is powered by a 220 volt outside power source.
Aside from the mentioned connections, one feature of the 4G SimCard Marine Wireless Router is the Ethernet Input slot which is capable of PoE Input. This input stands for Power over Ethernet, which translates for the capability of the device to use the Ethernet cable for both data and power usage.
The router has two sim cards assures total connectivity to the internet while inside the marine vessel. Both sim card slots are capable of receiving up to 4G connection, which is the fastest of the most stable network varieties. By having two Sim Card slots, there will be network redundancy assuring that the connection will not be interrupted and is stable.
Most commonly used in enterprise network infrastructure, network redundancy is designed to keep a backup mechanism or protocol by swapping networks within the infrastructure in cases where there is an event of unplanned network instability or outage.
With RevLight Solutions' 4G SimCard Marine Wireless Router, the capability of swapping networks is done automatically within the router itself. This adds to the ease of operation of the device and furthermore increases its efficiency to provide reliable wireless fidelity network throughout the marine vessel.
You will not have to worry about missing your cable TV Shows, movies or your followed YouTube Personalities. This will be an amazing add-on to your maritime travel experience, through a marine vessel.