Commercial kitchen ventilation systems or kitchen hood HVAC have a tendency to run at 100 percent operation even if the kitchen is not in use. This will eventually put a toll on the business' expenses, through bills and fast wear and tear on the ventilation system.
A simple solution for this gap in the operation of commercial kitchens is to install a kitchen demand control ventilation system, which simply translates to having control of your ventilation system as part of the Building Management system by turning it on when it is needed or a Demand Control Ventilation (DCV) for Range hoods. This will reduce operation costs and generate a lot of energy and financial savings for the business.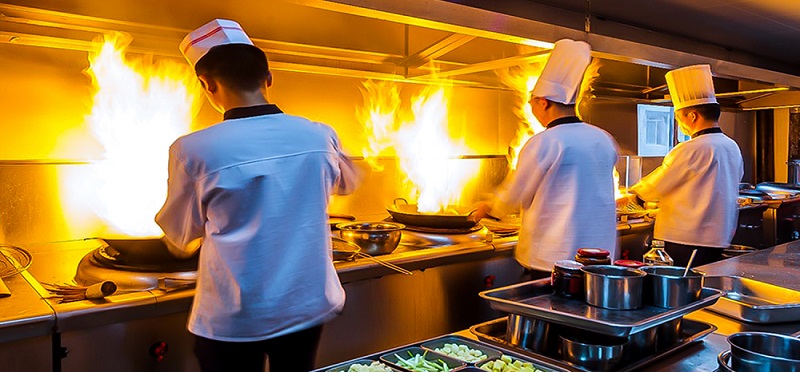 Let Your Kitchen Make Money for You
RevLight Solutions' innovative Commercial Kitchen DCV System offers a wide array of functions that will give you a better control of kitchen ventilations.
It is designed for three purposes:
To operate the kitchen ventilation systems with optimal control and performance
To prolong Kitchen ventilation life span and
Optimized Energy Consumption.
Call for Kitchen DCV Setup
We will setup your kitchen by applying automated functionality and it will help you in the food making process
Real Time Monitoring
With the three objectives met, the business is guaranteed heaps of savings and a better financial status.
In order to optimize the control of the system, the operations should be monitored. This can be done with the systems' Real Time Monitoring and Trends Interface in where the permitted users have complete access towards how the ventilation systems are performing.
The interface also enables the users to accurately diagnose any corresponding issues within the ventilation system prompting better communication and turnaround time between the staff and the ventilation systems technicians.
A System that Works with You
Innovatively, the Commercial Kitchen DCV System by RevLight Solutions' can be accessed anywhere through its Cloud based system. The data gathered through monitoring and diagnosis of the system is securely encrypted into the cloud and can be accessed by permitted users; may it be Employee, Supervisors, Regional Managers or up to the National Managers.
Also the software enables permitted users to remotely control the ventilation system 24 hours a day, 7 days a week. They will be able to remotely control electrical switches, turning on or off when needed.
The system walks by the principle that preventive maintenance is better than reactive maintenance. By monitoring for any unusual functions of the system through its real time monitoring and diagnosis, it is able to prevent further damage by notifying the users of any errors.
Thus this will lead to an early intervention of the technicians rather than waiting for any complications in the system brought by an unresolved error. These processes increase the life span of the ventilation savings thus generating savings for the business.
Electrical Control Package
The system also allows the user to preset a schedule of when the kitchen ventilation systems should be turned on, operate at 100%, slow down operations and eventually shut off. This automated routine scheduling of operations allows better energy consumption optimization and will maximize energy savings.
As mentioned, all data will be archived in the cloud and retrieval of historical data for comparison to new data to analyze a trend will be taken from the cloud. Also, any notifications from the system can also be set-up to send a real-time alert via email to any corresponding staff. The extensive data and communication systems of RevLight Solution's Commercial Kitchen DCV are optimized to consume less data usage and bandwidth thus generating more savings for the business.
Overall, the Commercial Kitchen DCV by RevLight Solutions offers extensive and functional capability without sacrificing financial, energy and manpower resources. With the system built in such manner, savings and better kitchen operation is guaranteed.